Please remember the copyright on this site (located at the bottom of this page), it has been in place since 2007 thru present. It will be enforced. If you would like to use pictures please e-mail me for permission....
Just a little view
of what is coming up
BREAKING NEWS: 5-17-11
Over 30 up and coming babies in the barn at this time and more does due this weekend. Things are alive and well in CM's barn.
Babies include, REW-Otter-Silver Marten- Choc Self and Lilac.
My Favorite Doe
CM's Pride and Joy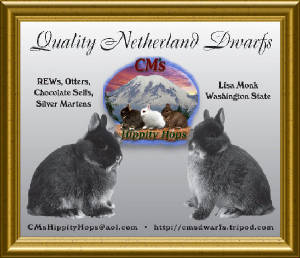 To Email CM's Hippity Hops Click Here
Go to the bottom of this page and look for the link to my other site all about Netherland Dwarf show and breeding information.
Otter young senior Buck coming up,
CM's Cardiac Arrest
Cardiac Arrest is proving to be a very valuable buck in our barn. He produced many of the top animals I showed last fall at convention including the sire to the BOV Silver Marten Doe and a couple of my up and coming otter herd bucks.
Our Newest Winner BOB/BIS CM's MS1
8-23-08 at FMNDRC in Oregon Otter Sr Buck
CM's Procesyn (MS1) is another great herd buck. I am very lucky to have this buck in my breeding program. Him and Cardiac Arrest will be used many times this breeding season.
CM's Mr Good Bar
2006 Dwarf Nationals in Lancaster, PA &
2006 ARBA Nationals Fort Worth TX
Best Of Variety Chocolate Open Class
in both shows.

ARBA Convention in Rhode Island
Kim Campbell, Christy Monk, Lisa Monk, Kim you make me laugh and look forward to seeing you at the national shows and all of your great e-mails.
Rabbitminus's 905
As he gets older he is starting to show is age, but he was shown in Lancaster, PA and still placed 3rd senior buck as an old man. RIP 905 we will never forget what you did for our barn...